Pressed Pennies by the Penny Machine Company
New Touchscreen Medallion Machine!
Telephone: 877-448-6511 - Email: info@pennybiz.com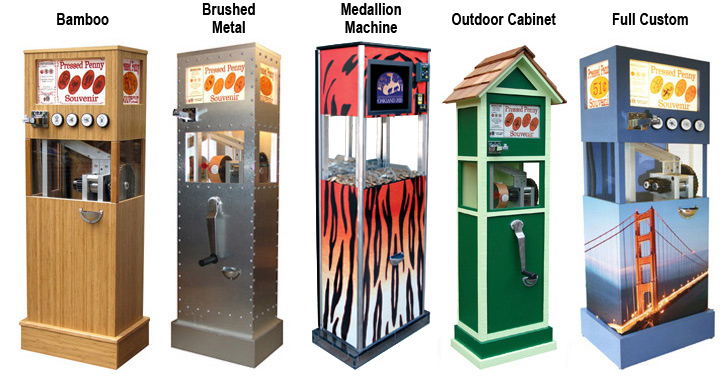 PMC's Penny Smashers
» No investment or cost to the location!
» Handcranks or electrics available for all cabinet styles.
» Electric model complies with the American Disabilities Act.
» No Power Required for Handcrank Penny Machines Simple and Easy to use two step operation Service available 24/7
PMC is an exciting, environmentally responsible company with an ongoing commitment to creating custom designs, which fit our customer's brand identity. We build our penny machines from bamboo, and FSC certified materials. PMC offers a large spectrum of penny machines as well as the highest level of service and maintenance. Consistent machine functionality coupled with superior product quality has proven to increase income and customer satisfaction for our clients. PMC is one of the leaders in the penny machine industry. What started off as a small family business in the 1980's and has grown into hundreds of penny press machines placed worldwide.
We at PMC (www.pennybiz.com) have created a whole new line to the traditional coin press machine. PMC considers a working relationship to be a creative collaboration. Each penny smasher machine we produce is made with the identity of the customer in mind, creating pressed pennies that perfectly fit each location. PMC manufactures one of the most reliable machines in the industry. This comes from years of "in the field" experience working on penny machines. We work closely with our clients, to build a coin press machine that not only maximizes revenue, but also fits in aesthetically by custom building each machine for every client. PMC's penny machines light up, which attracts attention, and dramatically increases revenue. We truly believe that each and every guest will leave your location happy with the pressed pennies that are created from PMC's penny machines.